Deck of ashes PATCH NOTES (EA BUILD 189)
For a long time we worked hard to produce as much new content as we can trying to make your game's opportunities as wide as possible. As a result, the Deck of Ashes became much larger which affected the game balance. So the in-game economy was most affected feature. Let's begin! 🙂
THE ECONOMY BALANCE FIXES
The main problems associated with the economy disbalance, we considered an excessively large number of resources available to the player and duration of a storyline campaign. A lot of work was produced.
It usually takes a
Prepare to tighten the belts

The number of chests, especially with 3 keys was reduced;
The amount of Ash storms is slightly reduced;
The ratio of the number of teleports has been changed. Now you will see more teleports in the red zone than in the yellow one;
Slightly reduced the number of battles and the chance of Ambush;
Fights rewards was reduced;
An amount of extractable resources was reduced;
The size of the dungeons in all chapters and the amount of resources, battles and chests inside were reduced;
The duration of the second chapter is slightly reduced;
Creating cards on a camp now costs less ash than the Blacksmith in Camp.
Despite such a big changes, the updated economy balance is an improved and more sparing version of the one that was when the game came out in early access. And, as a good game is supposed to be, the updated economy balance is friendlier to the new players, but now it is quite capable of challenging the masters of the Deck of Ashes 🙂
An important note:
The new economy balance is available only at the difficulty levels Adventurer and Martyr. Difficulty levels Wanderer and Raider will maintain the previous balance of power, taking in itself only a decrease in the duration of the second chapter and the size of the dungeons.
NEW SPEED MODE
You asked a lot about this, friends. We have heard you. Thank you :))
The general pace of the game has been increased, as well as its individual elements:

The speed of changing of turn was accelerated;
The speed of playing cards by the enemy was accelerated;
The interface animations were accelerated;
Moving around the in-game map, as well as a large number of small details were accelerated.
You still can turn off the Quick mode in the settings. It would return the speed of the game that was before the update.
NEW ANIMATIONS OF MONSTERS AND CHARACTERS
And here is the cherry on the top! More than 60 new animations were added in the game!
With this update, characters, bosses and all monsters will receive unique animations of non-attacking abilities that trigger during summoning, healing, and power-ups.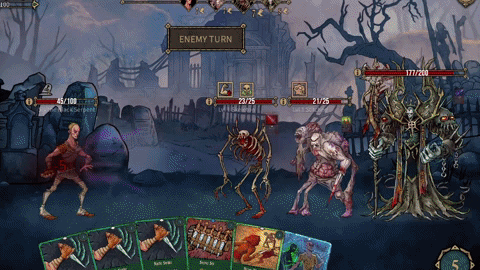 THANKS FOR READING AND DO NOT FORGET TO UPDATE THE GAME!
FACEBOOK – fresh content everyday!
DISCORD – discuss your deck with the community
INSTAGRAM – plenty of animated monsters 🙂
TWITTER – stay in touch with us!
Latest posts by JADIRI GAMER
(see all)